INBOUND 2019: How To Take Advantage Of The 5 Best HubSpot Platform Updates
The lights, sounds, and spectacle of the orange-themed marketing, sales and service extravaganza is over. HubSpot's INBOUND has well and truly concluded for 2019.
Though the curtain has fallen on the Inbound stage, it lives on through the many many updates announced to the HubSpot platform.
Like with any new tool or function – it can sometimes be challenging to wade through the hype and to see how it can be applied to our processes. Here's a rundown of the five most useful updates to the platform and how you might add them to help grow your business.
Update 1: The App Marketplace
Imagine a world where all the tools in your tech stack integrate seamlessly with your HubSpot portal. No more disparate systems, no more hopping from window to window to achieve something as simple as a tracked string of emails tied to a single contact.
Wouldn't that be grand?
Well, we're now one step closer to this bustling technological utopia with HubSpot's new App Marketplace. There is now double the number of integrations available for more and more of the most popular apps like Slack, Xero, WordPress.
The individual integration pages have been revamped to prioritise the key information you need to make an informed decision. Think pricing, subscription requirements, and demo videos: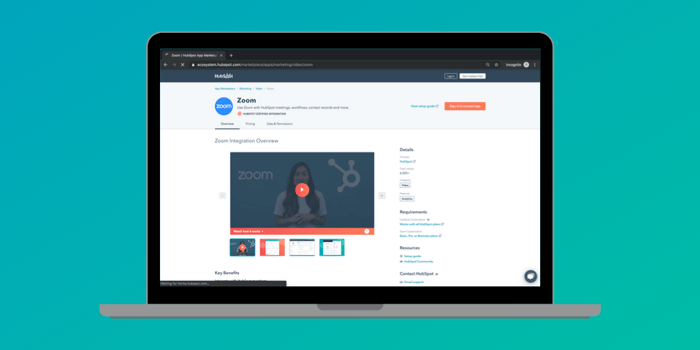 Update 2: Advocacy Automation
HubSpot's Service Hub is now 18 months old, and a very different product from its release version. The latest update is a testament to this evolution: advocacy automation.
You are now able to automate follow up actions based on your received Net Promoter Score (NPS) results, configured from within the customer loyalty tool.
Low NPS? Automate a string of actions that help you uncover your areas for improvement.
Neutral NPS? Automate an email sequence to identify opportunities on how to achieve that coveted Promoter Score.
Stellar NPS? Automate a referral or garner testimonials from your evangelical customers.
Another manual task made easy through the awesome power of HubSpot.
Update 3: New Landing Page Editor and Follow-up
If you haven't seen yet, HubSpot's email tool has had quite the revamp. It's slicker, cleaner and most importantly, easier to use. The tool is now much more focussed on a drag and drop functionality so you can get your emails out quicker.
The good news is that this design methodology and user experience also features in the landing page editor. The same drag and drop functionality, the same ease-of-use.
In addition, you can now send three automated emails to form submitters from within the tool itself. That's nifty, amirite?
Update 4: Native Ad Creation & Automation
Do you use Facebook lead ads or LinkedIn lead generation forms?
If you don't, it might be time to look into them. For your customers, they remove all the friction from conversion by allowing them to convert from within the ad itself.
HubSpot now has a native ad creation tool, where all your campaign assets can exist in one place. The experience of using the tool also mimics the creation process you're accustomed to within other functions of the HubSpot platform.
You can now also automate next steps from these ads. For example, add converted contacts to a list or enrol them into a workflow. That's also pretty nifty!
Update 5: Marketing Automation Updates
Here's a scenario:
You've been on the HubSpot platform for a while, and you're getting into to the tools, building out workflows and getting your engine humming away.
But, every time you log into your portal and click Workflows, you're greeted by a list so numerous, you question why you ever decided to automate anything ever.
Sound familiar?
If it does, there's hope. And it comes in the form of now being able to order your workflows into folders.
It might be a small addition, but the impact can be massive if the scenario above resonates with your reality in any way.
The other small, but impactful addition to the workflow tool is the ability to "go-to-action".
When you're building out large, complex workflows – we all know how unwieldy they can become. The new "go-to-action" function allows you to lead your contact to another section of the workflow like below:

An Ever-Evolving Beast
There you have it, five of the latest updates to the HubSpot Platform – but there are many more, with many more to come.
It can be a dizzying affair to keep up to date with all the new changes, identify which ones are relevant to your business and to determine valuable use cases for them. But it will be worth it to keep your finger on the pulse, because if the platform can't do what you want it to do now. There's a good chance it won't stay that way for long.